I believe in different thinking, and I know that I can learn how to build robots by doing and watching.
My name is Dragos Calin, and I'm a computer and automation engineer. I enjoy building autonomous robots.
Email: dragos [at] intorobotics.com
Place of residence: Bucharest, Romania.
Note: English is not my native language, so please be patient with me and correct my errors.
Learn by doing
Knowledge isn't a pyramid. Theory tends to be based on the pyramid model. Instead of working directly with a practical example, we are learned to start by teaching a more abstract theory from which all practical examples can be derived.
Learn by doing and watching tends to ignore the theory model, which is good, because the theories often aren't as accurate as of the practical knowledge anyways.
Focusing on practice first, allow you to learn how you were designed to learn – by doing and watching other people.
Getting started to build autonomous robots is easier than you think. I created this website to show you real things for a specific purpose. As an example, learn to build a robot by picking a particular piece of software or electronics you want to make.
The theory builds on practice and not the other way around. If you follow this website, I promise you'll find resources and practical projects to build autonomous robots.
A special category: Ag-Robots
The robots will transform the agriculture and how the farmers treat and work the land. I like to think that soon we will have robots able to grow healthy foods that we need to consume every day.
Many start-ups, companies, and even people involved in DIY projects (rise the hand!) aims to develop ag-bots that can move autonomously, monitoring crops, work the land, detecting and treating diseases, and saving farmers valuable time.
I create a particular category on intorobotics.com for ag-robots. In this category, you can find all the robots used in agriculture.
This blog cited as references in these books:
Awards: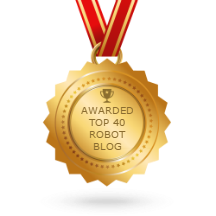 About the Affiliate Program
Commerce Content is independent of articles and advertising, and if you buy something through this blog, I may get a small share of the sale.