If you're interested in learning how ROS works or trying to build autonomous robots, you've come to the right place.
My name is Calin Dragos and I'm a computer and automation engineer. I learn and experiment with software (ROS, OpenCV, TensorFlow, Gazebo) and build autonomous robots. I'm interested especially in computer vision and robot navigation. In this blog, you'll find tutorials, reviews and many of the robots that I build.
Contact me
If you have a project, idea, proposal that might make my work more interesting, e-mail me at office@intorobotics.com. For the reasons stated above, I'll only respond to those e-mails that are a good match for my schedule and interest.
This blog cited as references in these books:
Detecting and Mitigating Robotic Cyber Security Risks By Kumar, Raghavendra, Pattnaik, Prasant Kumar, Pandey, Priyanka – 2017
Smart Universities: Concepts, Systems, and Technologies By Vladimir L. Uskov, Jeffrey P. Bakken, Robert J. Howlett, Lakhmi C. Jain – 2018
Robot Intelligence Technology and Applications 4 By Jong-Hwan Kim, Fakhri Karray, Jun Jo, Peter Sincak, Hyun Myung, Jul 8, 2016
Fully Autonomous Vehicles: Visions of the future or still reality? By Michael Nikowitz
epubli, Oct 12, 2015 – Science
Raspberry Pi Robotics Projects – Second Edition By Richard Grimmett
Packt Publishing Ltd, Apr 30, 2015 – Computers
Sociorobot World: A Guided Tour for All By Spyros G. Tzafestas
Springer, Jul 15, 2015 – Technology & Engineering
Raspberry Pi By Richard Grimmett
N.A (Japanese), Sep 19, 2014
Awards: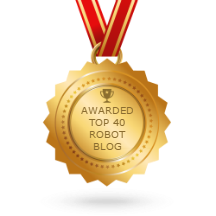 About the Affiliate Program
Commerce Content is independent of articles and advertising, and if you buy something through this blog, I may get a small share of the sale.