IntoRobotics has been known as a magazine for robotics tools, components, and information. Today it is so much more than that. It becomes a place to share what I learn and build in my two-rooms apartment in the city center of Bucharest. It is a small place to build robots, but it is full of ideas, joy, and opinions.
My name is Calin Dragos and I'm a computer and automation engineer. I learn and experiment with software (ROS, OpenCV, TensorFlow, Gazebo) and build autonomous robots. I'm interested especially in computer vision and robot navigation.
Contact me
If you have a project, idea, proposal that might make my work more interesting, e-mail me at office@intorobotics.com. For the reasons stated above, I'll only respond to those e-mails that are a good match for my schedule and interest.
This blog cited as references in these books:
Detecting and Mitigating Robotic Cyber Security Risks By Kumar, Raghavendra, Pattnaik, Prasant Kumar, Pandey, Priyanka – 2017
Smart Universities: Concepts, Systems, and Technologies By Vladimir L. Uskov, Jeffrey P. Bakken, Robert J. Howlett, Lakhmi C. Jain – 2018
Robot Intelligence Technology and Applications 4 By Jong-Hwan Kim, Fakhri Karray, Jun Jo, Peter Sincak, Hyun Myung, Jul 8, 2016
Fully Autonomous Vehicles: Visions of the future or still reality? By Michael Nikowitz
epubli, Oct 12, 2015 – Science
Raspberry Pi Robotics Projects – Second Edition By Richard Grimmett
Packt Publishing Ltd, Apr 30, 2015 – Computers
Sociorobot World: A Guided Tour for All By Spyros G. Tzafestas
Springer, Jul 15, 2015 – Technology & Engineering
Raspberry Pi By Richard Grimmett
N.A (Japanese), Sep 19, 2014
Awards: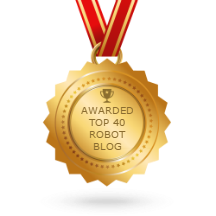 About the Affiliate Program
Commerce Content is independent of articles and advertising, and if you buy something through this blog, I may get a small share of the sale.